<![if !vml]>

<![endif]>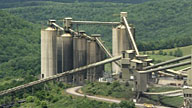 As all industry looks for a system to provide monitoring of their equipment and a system to provide the highest plant productivity, we offer a system that is exceptional in the global world of continuous monitoring. The system can be hard wired with fiber optics or wireless.
We specialize in Mining Equipment.
1. The Internet Based System that will monitor 24X7 and email or text message anyone in the plant about a problem. This system is provided by Commtest VBOnline, at a reasonable price, that has proven to save money. Please click on "GENERAL Information BUTTON" (located on the left of the screen) to see more about this system.
2. This system provide vibration, temperature, rpm, current and other desired process variable. Alarms can be set for overall values and or specific frequencies.
3. We can also provide a wireless system from Commtest custom designed for your operation.
3. Massey Technical Services LLC can provide installation, set up and remote monitoring if desired. With the remote monitoring we can also provide a complete vibration assessment of your rotating equipment at any interval desired.